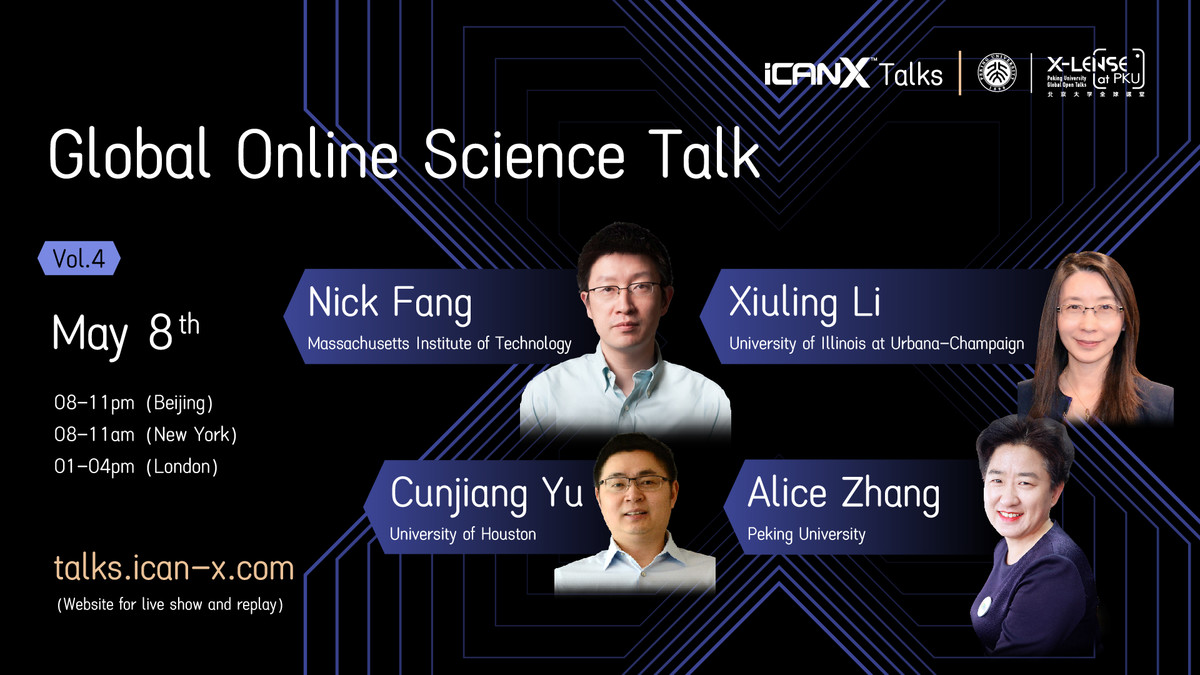 Harvesting Light, Tunable Sound Switches and Beyond
光采集、可调声开关及其他
Will future of smart lighting and window coatings enable energy-efficient cooling in smart buildings? Can printed color converters lead to next generation micro displays with high brightness, sharp image resolution, and ultra‐low power consumption? Recently, exciting new physics of nanoscale optical materials has inspired a series of key explorations to manipulate, store and control the flow of information and energy at unprecedented dimensions. In this talk I will report our recent efforts on controlling light harvesting and conversion process using scalable micro/nanofabrication. These emerging optical materials show promise to a range of important applications, from optical networks and chip-scale photonic sensors to lasers, LEDs, and solar technology. For example, I will introduce our recent collaborative efforts on versatile 3D shape transformations of nanoscale structures by deliberate engineering of the topography-guided stress of gold nanostructures. By using the topography-guided stress equilibrium, rich 3D shape transformation such as buckling, rotation, and twisting of nanostructures is precisely achieved, which can be predicted by our mechanical modeling. Benefiting from the nanoscale 3D twisting features, giant optical chirality is achieved in an intuitively designed 3D pinwheel-like structure, in strong contrast to the achiral 2D precursor without nano-kirigami. The demonstrated nano-kirigami, as well as the exotic 3D nanostructures, could be adopted in broad nanofabrication platforms and could open up new possibilities for the exploration of functional micro-/nanophotonic and mechanical devices. I will also present our development of advanced design and micro/nanofabrication techniques, to enable exploration architectured meta structures for acoustic waves. These structures show promise on focusing and rerouting ultrasound through broadband metamaterials.
未来的智能照明和窗口涂层能否为智能建筑带来高能效的制冷?印刷的彩色转换器能否带来具有高亮度、清晰的图像分辨率和超低功耗的下一代微显示器?最近,纳米光学材料的新物理以前所未有的规模激发了一系列对操纵、储存和控制信息和能量流动的关键探索。在这次演讲中,我将报告我们最近在利用可伸缩的微/纳米结构控制光收集和转换过程方面的努力。这些新兴的光学材料有望应用于一系列重要的领域,从光学网络和芯片级光子传感器,到激光、LED和太阳能技术。例如,我将介绍我们最近的合作成果,通过对对金纳米结构形貌引导应力的研究,实现了纳米尺度结构上通用三维形状的转换。通过形貌导向的应力平衡,精确地实现了丰富的三维形状变换,例如纳米结构的屈曲,旋转和扭曲,并且可以通过我们的机械模型进行预测。得益于纳米级的三维扭转特性,在一个直观设计的三维类风车结构中实现了巨大的光学手性,并与无纳米剪纸(nano-kirigami)结构的非手性二维前驱体形成强烈对比。所展示的纳米剪纸结构以及奇异的三维纳米结构可以应用于广泛的纳米制造平台,并为探索功能性微/纳米光子和机械器件开辟新的可能性。我还将介绍我们的先进设计和微/纳制造技术的发展,以便能够探索声波的结构化元结构。这些结构显示出通过宽带超材料对超声进行聚焦和重新布线的前景。
Nicholas X. Fang received his BS and MS in physics from Nanjing University, and his PhD in mechanical engineering from University of California Los Angeles. He is currently professor of Mechanical Engineering at MIT. Prior to MIT, he worked as an assistant professor at the University of Illinois Urbana-Champaign from 2004 to 2010. Professor Fang's areas of research look at nanophotonics and nanofabrication. His recognitions include the ASME Chao and Trigger Young Manufacturing Engineer Award (2013); the ICO prize from the International Commission of Optics (2011); an invited participant of the Frontiers of Engineering Conference by National Academies in 2010; the NSF CAREER Award (2009) and MIT Technology Review Magazine's 35 Young Innovators Award (2008).
方绚莱教授于南京大学获得物理学学士和硕士学位,其后于加州大学洛杉矶分校获得机械工程博士学位,现任美国麻省理工学院机械工程系教授。在进入麻省理工学院之前,他曾于2004年至2010年在伊利诺伊大学香槟分校担任助理教授。方绚莱教授的研究领域着眼于纳米光子学和纳米制造,获得多项学术荣誉和奖励,包括美国机械工程师协会(ASME) Chao and Trigger Young Manufacturing Engineer 奖 (2013年);国际光学委员会ICO奖(2011年);2010年受邀参加国家科学院工程前沿会议;NSF职业奖(2009年)和麻省理工学院技术评论杂志35位青年创新者奖(2008年)。